The Greenworks Pro 60-volt series is their hottest, newest line of product.  The power of 60 volts tends to spruce up each piece of their outdoor power equipment.  Their chainsaw in particular was noteworthy enough to purchase and review.
Greenworks 60V Chainsaw Specifications
Model: Greenworks Pro CS60L210 (kit)
Voltage: 60V
Weight with Battery: 12.20 pounds
Kitted Battery: 2.0 Ah
Nominal Battery Watt Hours: 108
Chain: Oregon 91 Skip Tooth
Bar Length: 16″
Warranty: 4 years limited
For those of you who want a copy, here is the CS60L210 owner's manual.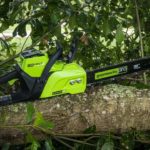 Right off the bat, I noticed the "kit" came with a 2.0 Ah battery.  In my review of the 20312, it had a 4Ah battery.  I immediately had some concerns about runtime.  So I purchased Greenworks' optional 5.0 Ah battery.
As usual, Greenworks nails the ergonomics.  The weight of the saw, which is right at 13 pounds with the bigger battery, is more than acceptable.  And the balance feels right too.
The handles are a little on the skinny/slim side, but it's nothing objectionable.  The switchgear feels solid, and the saw feels quite professional.  Honestly I think Greenworks flubbed up the bucking spikes.  They are short, rounded, and not particularly effective.  It's not a deal killer, and I guess I'm being picky here.  but it seems like a feature someone who knows nothing about chainsaws and how they work designed.
This 16″ model claims to make up to 90 cuts on a fully charged 2.0Ah battery. I had a lot of clean up to do on the 3 acre lot next door, and I wasn't so sure 90 cuts would or wouldn't do the job.  As you can imagine, I was curious how it would stand up against the other cordless chainsaws I've reviewed.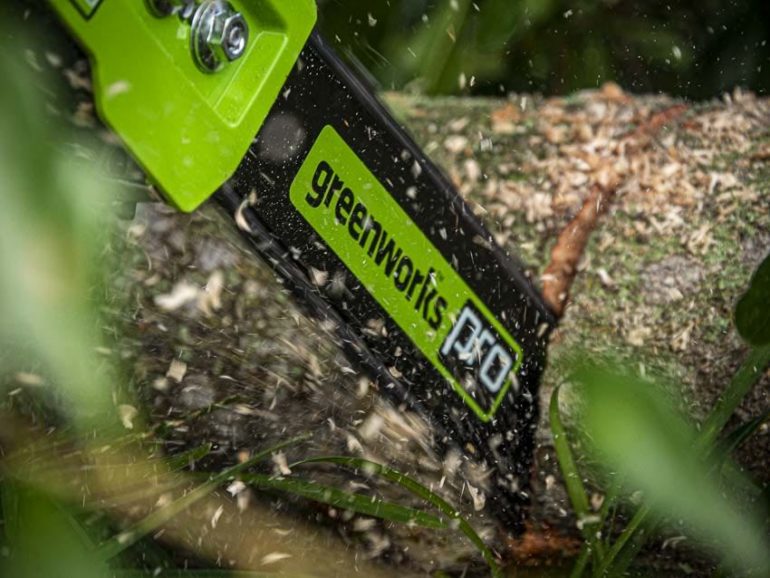 Recommendation
In working over the trees on the lot nextdoor, the Greenworks 60V Chainsaw had the power and chain speed to keep up with my work rate. The skip tooth chain that comes with the saw gets the job done, but you may want to switch to a standard tooth chain if you have consistent cutting to do.
I like this saw as a good option for homeowners that have seasonal chainsaw work to do and don't want the hassle of gas. It gives you more muscle than most electric and lower-power cordless saws without becoming unwieldy.
I reviewed the Greenworks 20312 here.  There is a lot I like about the CS60L210 as compared to the 20312.
Feature Set
Trigger Safety
Some cordless chainsaws have electronic safety mechanisms, but it's not a standard feature quite yet. This Greenworks saw doesn't have one, so you can pick it up and start sawing without a step in between.
There's a genuinely good debate about that. Electronic safeties time out, making it almost as irritating as restarting a gas saw. Okay, it's not quite that bad, but it really is inconvenient. On the other hand, they add one more layer of safety, and that's generally a good idea for tools that can do as much damage as a chainsaw.
So is the lack of an electronic safety a negative for the Greenworks 60V Chainsaw? Not really. The mechanical safeties in place do the job in my opinion.  Folks who have small children in their home should of course store the saw with the battery removed (and possibly on a charger).  With no battery, this saw is as safe as anything out there.
Skip-Tooth Chain
The Greenworks CS60L210 chainsaw uses an Oregon 91 skip-tooth chain. This saves on the cost and requires less juice from the battery, but these skip-tooth chains cut slower than traditional chains. That's no surprise since it has half the teeth. They also do a good job clearing debris from the chain path—which is why you often see them in models using longer bars.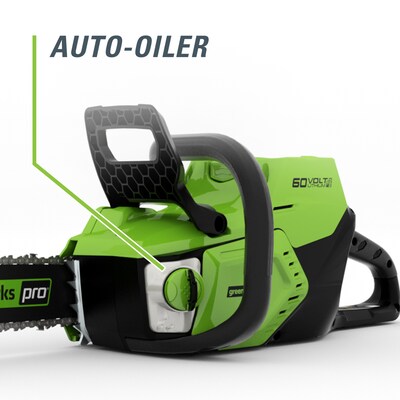 What's different for Greenworks is that they move from the 0.043″ chain that most cordless chainsaws come with to a 0.050″ chain.
Bar Security
The bar is held on with dual studs whose nuts require a wrench to tighten and loosen. Some of the saws in this class have a tool-free adjustment, but the benefit remains a source of contention. Some Pros consider the dual stud design to maintain a more secure connection despite losing some convenience.
However, dropping bar nuts is common. Greenworks also designed this saw with captive nuts that are tougher to lose in the field. That's definitely a giant plus.
Bucking Spikes
The Greenworks 60V chainsaw features aluminum bucking spikes for gripping the wood securely during a vertical cut. As you slightly rock the saw forward using a bucking grip, the spikes allow you to gain downward leverage. Many of the saws in this category have plastic bucking spikes—and puny ones at that. It's good to see the more durable metal spikes.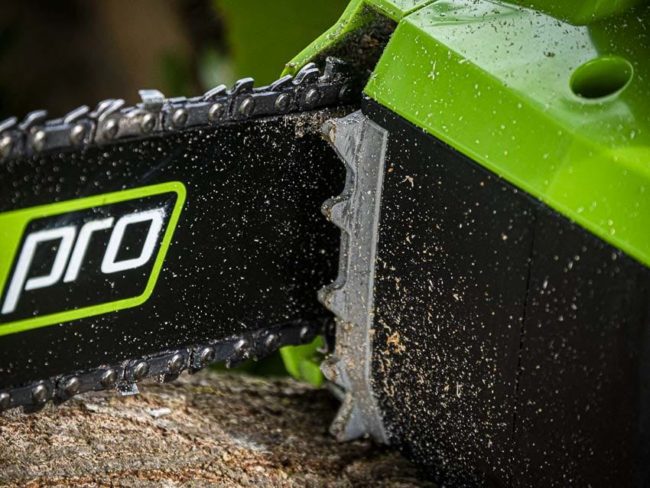 These aren't as substantial as we see on gas saws and that's not a big deal on smaller cuts. With a 16″ bar, I'd like to see these extend out a bit more (and with more of a point on them) to give me a better grip on those 10″+ cuts.
All A-Buzz
Ergonomics
Compared to its peers, the 60V Greenworks Pro chainsaw does a decent job in the balance category. A lot of it depends on what battery you use since the 2.0Ah pack drops some weight. I primarily used a 5.0Ah and didn't feel things were terribly out of whack.
There's some internal debate about the handle size. Guys with bigger hands might feel they're too skinny. I have medium-size hands and didn't find it an issue, but I can definitely see how the gorilla in our office takes exception. As a chainsaw that targets homeowners, including women, I think it strikes a fair balance.
About that Chain…
You normally see skip tooth chains on larger bars, 30″ and up or so. When you're cutting larger diameter logs, that style is helpful for chip removal. Fewer teeth are engaged and it helps reduce strain on the motor and crank. As a bonus, you have fewer teeth to sharpen.
On cuts 6″ or smaller, the lower number of teeth can cause some chatter and add extra vibration. If you don't keep your chain speed up, it has a tendency to want to grab those smaller branches instead of cutting them.
I used the stock chain until it was time to sharpen it and took 3/4-ton or so of oak branches in the process. I had no problems with the cutting speed, though it was slower than a standard chain.
It cut very well on the larger branches, but I could feel the extra chatter on the light stuff. I'll likely swap out the chain for a full tooth version after this. Even though the 0.050″ chain is thicker than other cordless saws, if you keep it sharp and let the motor do the work, the saw has plenty of power and speed to drive it.
Oil
The Greenworks 60V Chainsaw has an oil cap with a lug that's easy to turn with gloves on. A flip-up tab also provides a good grip. The translucent window is a little tough to see through, however.
I haven't had any oil leaking issues so far. That's something that tends to set in over time with our cordless saws, so I'll need to revisit it somewhere down the road once I've put another few hundred cuts on it.
Runtime
Yes, I was wanting to review this saw and give you guys feedback.  But honestly, I also had a lot of work to do and lost track of how many cuts I made.  So I can't really judge against the "90 cut" claim that Greenworks markets.  And besides, I was using their larger battery.  There's a lot of variation here anyway, like how sharp your chain is, how large the diameter is of the material you're cutting, etc.
I took down three medium-sized trees with trunks of approximately 12″ in diameter.   Once on the ground, I cut those into ~18″ sections and trimmed all of the offshoots off. Add in some smaller branches I was thinning out, and I got all but the last few minutes of work done on that 5.0Ah battery.
In terms of working time, I had about an hour and a half of time with other hands to move the branches for me so I could work more quickly.
The 2.0Ah battery that comes in the kit is fine for light trimming, but I highly suggest moving up to the 5.0Ah if taking medium to large branches (or felling altogether) is what you expect the saw to do for you.
Price
The Greenworks 60V chainsaw runs less than $200 as a bare tool.  That means without battery.  That's pretty convenient considering you may own other Greenworks 60V product, and could just use that same battery and save yourself a bunch of cash.   Don't forget that Greenworks came out with a 60V Pro mower and it's a great piece of machinery.  
The Bottom Line
For the urban tree care I performed, the Greenworks 60V Chainsaw had the power and chain speed to keep up with me. The skip tooth chain that comes with the saw gets the job done, but consider switching to a standard tooth chain if you have consistent cutting to do.
I like this as a good option for homeowners that have seasonal chainsaw work to do and don't want the hassle of gas. It gives you more muscle than most electric and lower-power cordless saws without becoming unwieldy.
Click here to check the latest Greenworks saw prices on Amazon.