Over the last few years, Worx has developed an  great reputation in the outdoor power equipment and power tool industry.  Their WG305.1 Electric Chainsaw is another addition to the company's product range.  It is described by Worx as a compact powerhouse, and it comes with a pretty decent list of features, including:
Robust 8 amp motor
Toolless, auto chain tensioning system
14 Inch guide bar
Oil level indicator

For this review, I bought one of these and tried it out.  I've written up some of what I found, and in the following post I will go through some of the details, features, pros, cons, and my recommendation.  Keep reading to get the scoop!
Performance and Handling
The WG305.1 is an occasional use, homeowner chainsaw designed for light and medium cutting duties such as pruning, limbing, trimming and general light clean up.
As with all electric chainsaws it offers safe and reliable start-up with zero emissions. Starting the saw requires the user to engage the safety lock switch and press the throttle trigger. The saw will power into life and the safety lock switch can then be released. When the throttle is released the saw will stop and the chain gradually coasts to a stop.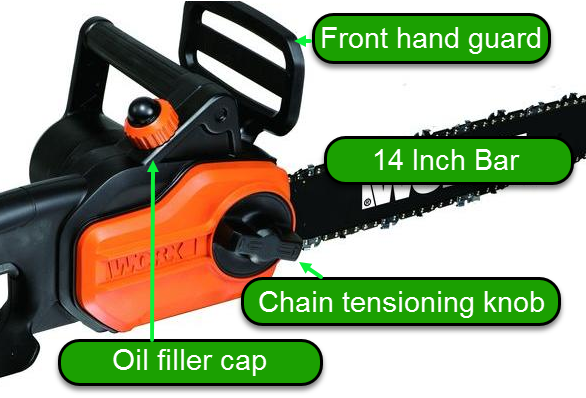 The saw is extremely easy to handle. Weighing less than 7lbs, it is one of the lightest saws you will find and should be within the handling capabilities of most people. Indeed, reviews indicate that it is popular with older people and individuals who for other reasons (such as injury) find heavier models hard to control. It has a rubberized over grip handle to improve comfort and stability and its compact design means that it is pretty easy to maneuver.
So, just exactly what is this saw capable of in terms of performance? The manufacturer states that it has a 'high cutting capacity' of up to 28 inches. This is obviously not in a single pass and would require the user to cut wood from different angles. With a 14 inch blade, the saw should be able to cut through a 12 inch log in a single pass. In both instances, the saws ability to handle cuts of this size depends on the type of wood being cut (hard or soft; dry or wet). Most users indicate that the saw performs well on wood up to 8 inches thick and that when doing this sort of work has the staying power to cut for a reasonable length of time without being over worked.
Other users advised that they had been able to cut through some larger trees but if you have regular heavy cutting duties to carry out then there are better saws out there for this type of work.
In summary, the WG305.1 is best suited to light and medium cutting tasks around the yard.
Features and Cutting Equipment
As mentioned earlier in the review, the WG305.1 is fitted with a 14 inch bar and chain.
The bar is a reduced kickback, sprocket nose model (Type: ES140SDEA041). This style of bar is popular so you won't have any difficulties finding a replacement if required. As the bar has a sprocket nose (this is the case with most homeowner saws), users will need to remember to regularly grease the sprocket nose hole. This is easily done by using a grease gun to inject grease into the hole.
The 14 inch chain has low kickback qualities. It has a 3/8 inch pitch, 0.05" gauge and 52 drive links. As with the bar, this is a popular size chain and replacements are readily available. The chain speed is 8.5 meters per second. On larger electric saws you can expect speeds up to 15 m/s and on gas
powered models higher still. In comparison, therefore, this is slower, however it is more than sufficient for light cutting work.
One important aspect of using a chainsaw is ensuring that the chain is kept properly tensioned at all times. On this model this is simple thanks to the tool-less auto chain tensioning system. Full instructions on how to set the correct tension are provided, however, it's basically a case of turning the chain tensioning knob clockwise until it is hand tight. This is a great system which avoids the need to get out the tool kit and therefore keeps interruptions to a minimum.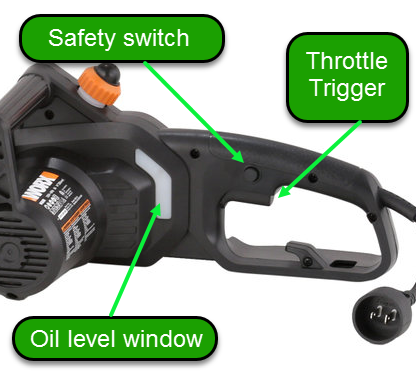 Some users complained that the chain slipped on a number of occasions. Experienced users will know that new chains have a tendency to stretch quite easily and so it is important that tension is checked on a regular basis. When the saw is first being used, this should be after every few cuts if necessary. You should find that once the chain is worn in, it will stretch less, reducing the number of times you need to adjust the tension.
The chain should also be kept in good condition, which means keeping it sharp. If you are used to doing this yourself, you will need a 5/32" round file and holder, together with a flat file. You can check out our article What size file do I need for my chainsaw? for more information about how to do this. If you don't feel able to perform this function then you can look at getting the chain sharpened locally by an expert or, alternatively, invest in a new chain.
Design and Construction
The WG305.1 is constructed from hard plastic. Whilst it perhaps isn't as robust as some larger saws, users will find the benefits in how light the saw is, as well as its low cost. The product is certainly robust enough to deal with occasional use light and medium duty cutting tasks.
In terms of design, this is a classic rear handle model. The diagram above shows the powerhead unit and guide bar. The oil filler cap and primer bulb sit at a slight angle on top of the unit next to the front handle. There is a front hand guard, which unlike some other saws, does not also act as a chain brake. Also shown is the chain tensioning knob. There is also a set of plastic bumper spikes (not in view) on the front of the unit which helps to provide stability when cutting.
The diagram above shows the rear handle which houses the throttle trigger and lock-out safety switch. You can also see the transparent oil reservoir window. The power cord is around a foot in length so an extension will be required.
8 Amp Brushed Motor
This saw is equipped with a feisty 8 Amp brushed motor, which is about as small as it gets on an electric saw and is comparable to the Remington RM1425 Limb 'N' Trim. This reinforces the fact that this is predominantly a light duty cutting saw. Although the motor is small, it is easily capable of handling the tasks for which it was designed.
Being an electric saw, an extension cable will be required. This should be suitable for outdoor use and have the correct gauge. If you are using a 100 foot extension, then this should be a minimum 14 gauge (14/3) although a higher gauge (such as 12/3 or 10/3) is even better. If you are using a 50 foot cord then it should be a minimum 16 gauge (16/3), although again a higher gauge such as (14/3 or 12/3) would be better.

Obviously the downside of using an electric saw is that you need to be within distance of a power outlet. You could consider using a generator. This saw has running watts of around 1,020 and starting watts likely to be higher than this. Your generator should, therefore, have sufficient power to cope with this load.
Chain Oil System
Unlike most saws, the WG305.1 has a manual bar and chain oiling system. This means that between cuts you need to remember to press the primer button (on the oil cap) to release the oil. Although this isn't perhaps as convenient as automatic lubrication systems, there is the advantage that you can control the amount of oil released to the cutting components to match the conditions. You should press the cap at least once between each cut.
Oil is added to the reservoir through the oil cap on top of the powerhead unit. As you can see from the earlier picture, this is quite large and easily accessible. The reservoir itself has a capacity of 4 oz. (120 ml). You should find that if using constantly, a top up every 12 minutes will be required. There is a minimum oil level marking on the reservoir window, making it easy to see when top up is needed.
In terms of the type of oil, a good quality bar and chain oil should be used (See article). The manufacturer recommends a winter weight oil but this is not essential.
A number of consumers mentioned that the saw leaks during storage. Unfortunately this is an issue common to many chainsaws. To prevent or minimize leakage, ensure that the saw is kept in an upright position (with the oil cap uppermost) when not in use. Try to store with as little oil as possible in the reservoir and give some thought to where and how it is stored.
One final point, bar oil is NOT provided with this purchase.
Safety Features
Although this is only a small, light cutting duty saw, it is still a dangerous tool and needs to be used properly at all times. To help keep users protected, there are several safety features, such as:
Reduced kickback bar and low kickback chain which meets the standards laid down in ANSI B.175.1. These reduce, but don't eliminate entirely, the chances of kickback.
Safety lock button which must be pressed to operate the throttle trigger. This prevents accidental starting.
Front and rear hand guards to prevent the hands coming into contact with wood, debris and the chain.
Bumper spikes. These act as a pivot on the wood and provide stability when cutting.
As always, these safety features should not be relied on entirely to keep you out of harm's way. Make sure you operate the saw in accordance with the manufacturer's instructions and always wear appropriate safety gear such as gloves, eyewear and suitable clothing.
Dimensions
This product weighs 6.6lbs, making it one of the lightest saws available on the market.
Accessories
It comes with an operators' manual and plastic scabbard to protect the cutting equipment.  Here's the owner's manual, for those of you who would like to download it.
Pros
• Lightweight and easy to use
• Fast and simple starting (essentially just the push of a button)
• Tool-less auto chain tensioning system
• Inexpensive
• Quiet
Cons
• Manual oiler (you have to remember to dump oil to the bar)
• Not particularly "solid" construction
Consumer Ratings
There are well over a hundred online reviews for this saw and they are generally very positive. Around 85% of buyers rate the saw as either good or excellent. Users are happy with how light and easy the saw is to use, its cutting performance and the excellent price. Some users mentioned that the chain can slip, which emphasizes the point that tension needs to be checked regularly.
You should buy this saw if:
• You struggle with heavy objects and need a light saw.
• You want a saw for light cutting and pruning work
• You don't want to spend a great deal of money
• You want a saw which is clean, easy to start and operate.
You should not buy this saw if:
• You have regular medium and heavy duty cutting jobs.
• You don't have access to a power supply
Warranty
The WG305.1 comes with a 3 year manufacturer's warranty.