It took me awhile, but I finally put together my review for the Greenworks 20312.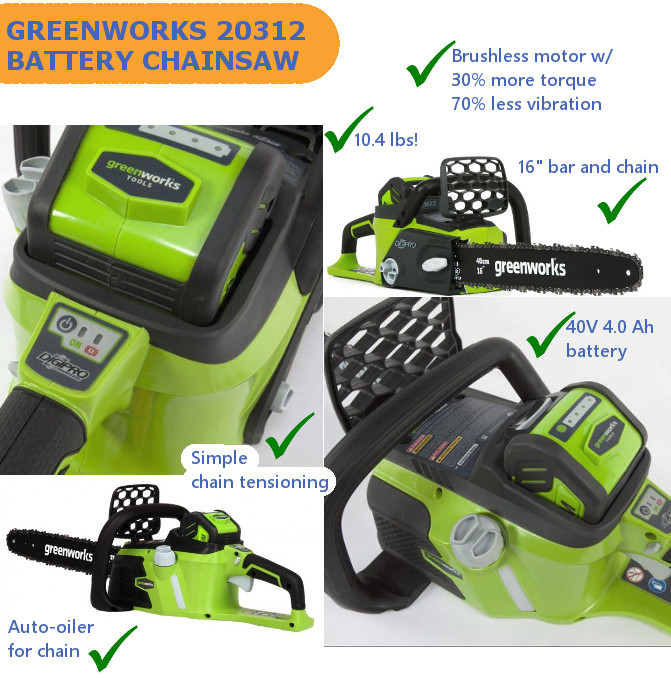 This is their 16″ battery chainsaw that comes with a
4Ah battery
. It's their answer to some of the Black & Decker models, and it appears to be one of
Greenworks' top sellers
.
It has been on the market for a couple of years now, and I've been itching to get my hands on one. I finally sent some chips flying with this thing, and I really like it!
Read on through this review for:
a detailed look at the 20312 specs
a fit/feel/finish assessment, and my "out of box" experience
performance evaluation
common competitors, and how it stacks up
Greenworks 20312 Features
You get a lot for your money with this chainsaw. A bullet-point list of specs/features:
Durable 16″ steel bar and chain.
Greenworks popular high-performance 40V G-Max Lithium-Ion battery, ideal for tough applications requiring fade-free power and no "memory loss" after charging.
Brushless motor, designed for longer life, higher efficiency, and up to 30% more torque to power through tough cuts.
Tool-less chain tensioning for maximum performance and ease of use.
3/8 in. chain pitch delivering aggressive cuts while minimizing stall and kickback.
Overmolded handle for reduced vibration and increased user comfort.
Rear handle ergonomics provide max control, especially for overhead use.
Electronic chain brake to maximize operator safety.
Quick-release trigger.
Push-button start.
Up to 150 cuts on a single charge.
Automatic oiler with translucent tank.
[Click here for the
OWNER'S MANUAL
.]
Initial Impressions
The saw feels high-quality.
Its various knobs, plastic pieces, and metal pieces all fit well together, with no weird burrs or areas that make me think "cheap".
The books and manuals were there, the packaging wasn't a pain in the butt, and I didn't notice any damage.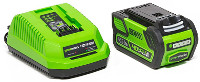 The 20312 version comes with a battery and charger.
The battery snaps into both the saw and the charger with no muss or fuss.  The charger isn't flimsy and I get the impression I could get some real work out of this combo.
Performance Evaluation
Right out of the gate I noticed a few things:
MUCH quieter!
much less vibration
feels solid despite light weight
Greenworks, as well as other manufacturers, claim their battery saws are up to 50% quieter than gas saws. I would believe it!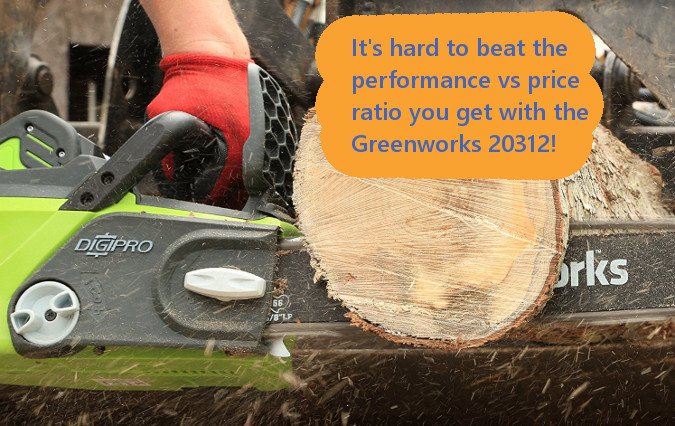 After years spent in the industry, I would never use any chainsaw without hearing protection. But this saw in particular runs very quietly, even at full throttle.
The noise it produces is very mechanical, with no noticeable whine from the electric motor.
The vibration on the 20312 seems to be at near-record lows. Similar to their claims for noise, Greenworks says this saw vibrates up to 70% less than a gas chainsaw equivalent.
I definitely believe their claim. Frankly, if I were to choose a saw I had to use all day long, this might be what I would pick just based on how easy it is on my hands and arms.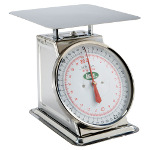 Even though this thing feels like a featherweight, it feels solid. The box says it's only 10.4 lbs, and my lower back corroborates that story.
I think Greenworks did a good job tuning the stiffness and the balance of the saw to match up with its weight. It sits in the hands great, and has that "all-day" comfortable feeling.
It's hard to get used to how easy it is to start one of these electric saws.  Pop the battery in, pull the trigger!
There's no messing with a choke, and no jerking your arm off.  This is definitely one of the benefits I love.
This saw cuts really well.
At 16″, it's in the middle of the common electric saw range.

It feels plenty powerful.  Of course with it being brand new and having a sharp chain, I was pretty impressed with how it slices through pretty much anything.
I cut with it for awhile, and it's battery life seemed average, maybe a bit more than average.
It's hard to tell you exactly how that will stack up to what you're thinking, since there are so many variables, including how much pressure you're applying through your hands.
Greenworks claims this combo is good for 100 cuts through 4×4 lumber.
4×4's are expensive, and I'm not about to chop several into 100 pieces to prove a point to ya'll!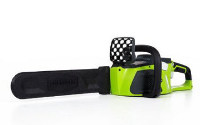 But let's do the math.
With the power this thing has, slicing through a 4×4 only takes a few seconds.  Including repositioning, I think you could make 4 cuts in one minute.
So if it will do 100 of those cuts, that means it would operate in fairly severe conditions for around 25 minutes.
Based on my experience, I think that's about right.  You can always charge the battery in order to go at it again, which will take maybe an hour.
If you're planning on doing a lot of cutting, it wouldn't hurt to buy a spare battery.  But they are expensive.  If you're going to do that much cutting (which frankly I think is rare for most homeowners), you probably want to consider a gas saw.
20312 vs Black & Decker LCS1240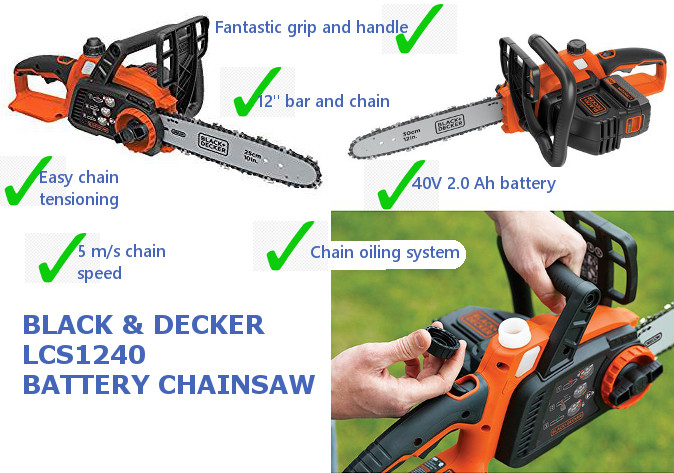 As I mentioned before, Greenworks meant for this saw to go up against the likes of Black & Decker.
The B&D LCS1240 is probably the closest competitor.
It's a 12″ saw, 40V, and has similar features like automatic chain oiling and tool free chain tensioning.
You'll notice the B&D is a 12″ while the 20312 is 16″.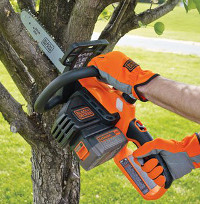 And the Greenworks has a 40v 4.0Ah battery, while the Black & Decker has a 40V 2.0Ah.
Yes, you will need a bigger battery for the Greenworks since it's a bigger saw, but even with that headwind you will get more runtime.
The B&D saw performs well.  It has a good feature set, and there's nothing wrong with the saw, but honestly they have been resting on the laurels and Greenworks has run right by them.
This is really no competition 🙂
FYI – you may want to check out the LP1000, which is a bit of a specialty saw.
20312 vs DEWALT DCCS690M1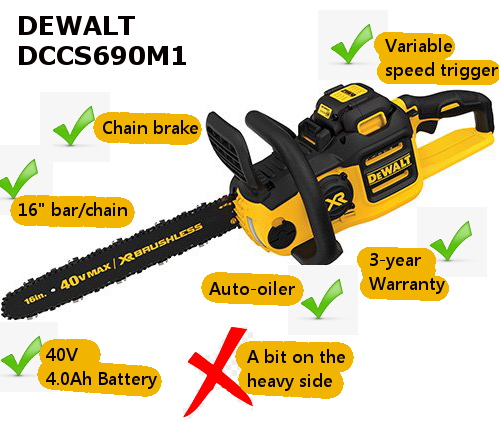 Okay, now we are getting a bit more serious.  Nothing wrong with that B&D saw, but DEWALT takes this particular battery chainsaw to a whole-nother level!
This is 40V with their 4.0Ah battery.  And a full 16″ bar and chain.
It's one of their better saws, and they back it like they mean it with a 3-year warranty.
The DCCS690M1 is known for performing well.  I'll just jump to the chase here and tell you about its achilles heel: the weight.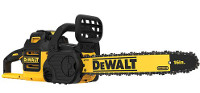 DEWALT sort of hides the weight of the aw, putting it nowhere on the box or the product literature.  Having used it myself, I can tell you it weighs just under 16 lbs with its battery.
Yes, you're doing your math right:  it is indeed 50% heavier than the Greenworks.
If you get get over that fact. you'll find the DEWALT is a worth competitor to the 20312.
20312 vs EGO CS1600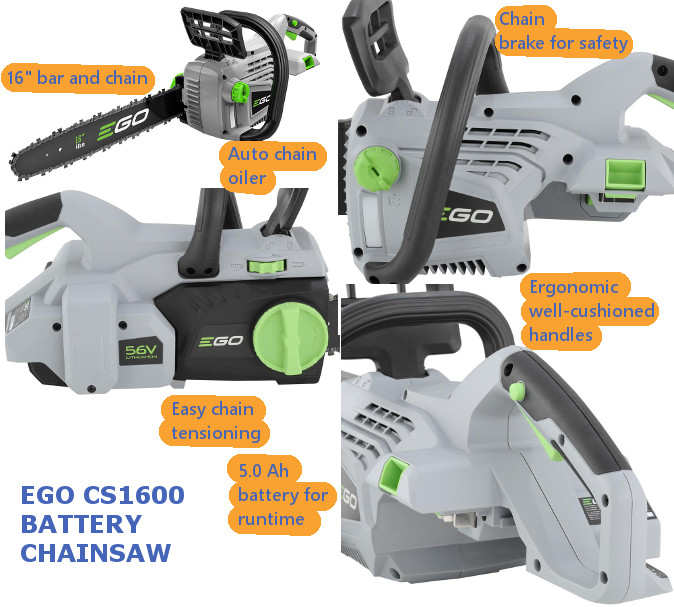 EGO steps it up with their CS1600 model.  It boasts a 56V 5.0Ah battery.
That's a lot of power!
It does have solid features.  Along with the 16″ bar/chain, it has an auto-oiler, chain brake, and a chain tensioning knob.
I will give it a more in-depth review soon, but I can  tell you without spending too much time with it that about the only thing I can easily find missing with the CS1600 are some metal bucking spikes.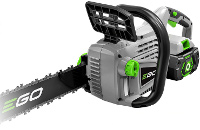 It does have some plastic ribbing on the front of the cover that presumably servers the same purpose.  But come on Ego, I think you can do better than that.
The fact that the saw is missing these isn't necessarily a death knell, it's just indicative that some folks that don't really use chainsaws for a living might have had a hand in developing it.
20312 vs Zombi ZCS5817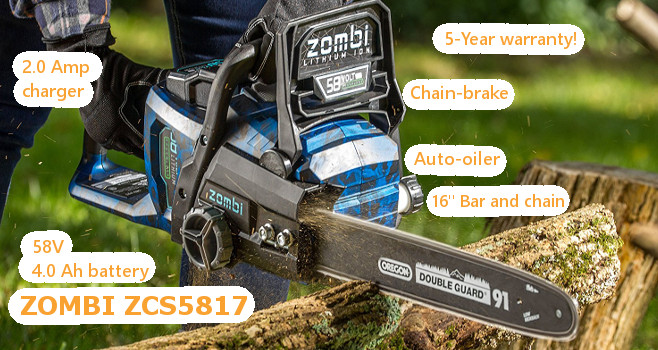 I'm going to lay one more out there, and it may be one you've never heard of.
The Zombi ZCS5817 is competitively spec'd and priced.
With it's 16″ bar and chain, and it's 58V 4.0Ah battery, the Zombi means business.
It has all the standard stuff (oiler, chain brake, brushless motor).  And – my favorite – it has some mean metal bucking spikes!
One thing that makes me think Zombi takes this class of saw seriously and is trying to position it well against the Greenworks is the warranty.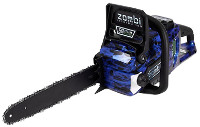 It comes with a 5-year tool warranty and a 2-year battery warranty.  To my recollection, that may be one of the best in the business.
The ZCS5817 comes in a weird blue camouflage color that won't be to everyone's liking.  But it does look unique, and I think it's easy to get used to.
20312 vs Earthwise CS33016

My wife calls me cheap, but I prefer to call it "frugal".
I wanted to throw an inexpensive option in here for those of you who may be budget shopping for a 16″ saw.
A corded saw isn't for everyone.  You may not be close enough to an outlet to stretch a cord that far.  You may be annoyed by trying to keep the cord out of the way.
But this is a definitely a good way to save money.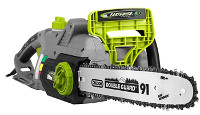 The Earthwise CS33016 is a 16″ chainsaw with a 12-amp motor.  It is light, weighing in at less than 10 lbs.
I covered the Earthwise LCS35814 elsewhere here on ChainsawsToday.  I've just included this corded version because I think some folks – those on a restricted budget – may be interested.
The Winner
It's hard to pick a winner from this group of great saws!
I would say the Black & Decker struggles here.
The top two are probably the Ego and the Greenworks.
If you don't mind the weight, the Dewalt is a great saw. And the Zombi is a relatively untested competitor, but one that should be taken seriously if their phenomenal warranty is any indication!