I understand the need for a top-of-the-line chainsaw, regardless of cost.  But if you're like me (and most homeowners are), you are looking for something that performs well without breaking the bank.  A Poulan Pro chainsaw may be just what you need.
I consider Poulan Pro to be the "no-nonsense", working-man's brand.  A no-frills, heavy-duty saw at an affordable price.
And don't forget, Husqvarna owns Poulan Pro and makes all their saws.  That means many of the same design targets are used, as are many common parts.

I think Husqvarna uses the Poulan Pro brand as a "price-fighter", allowing them to play in a less-premium brand space without sullying their premium brand name.
In some ways, this is like Lexus and Toyota, or Ford and Lincoln.  There's nothing wrong with a Toyota, but not many people who are shopping for Toyotas will cross-shop up in the Lexus brand space.
What I want to do here is introduce you to the Poulan Pro brand, and review a number of their affordable saws to see if any of them are right for you.
Poulan Pro Chainsaws
You have probably heard of the Poulan brand.  Most folks recognize their tools as being durable, priced right, and comfortable to use.  That type of reputation has been cultivated by Poulan for decades.  They seem to be dedicated to bringing products to market that are well-liked by the average consumer.
You may remember that Poulan Pro is the 2nd most popular chainsaw brand in 2018, behind only Stihl.
The Poulan History : An All-American Story
It all started with a guy named Claude Poulan.  Claude was a lumberjack, and spent many years of his humble, hard-working life cutting down trees.
I think it's important to understand the distinction between someone who cuts down a nuisance tree every now and then, or perhaps cleans up a big plot of land after a storm, versus someone who spends years earning their living doing it.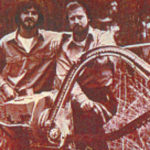 If you don't do it well, you either get hurt or your get fired.  You don't pay your rent, and you don't eat!
It's in that context that we see the significance of Claude Poulan starting the Poulan Saw Company in 1946.  A former lumberjack brings certain qualifications to the table when he starts a saw company!
Poulan began manufacturing robustly designed, affordable chainsaws for professional lumberjacks in Claude's hometown of Shreveport, Louisiana.
You may have already read that the first chainsaw models were two-man machines.  These things weren't for the faint of heart, but did help increase throughput of the lumberjack crews.
Poulan's designs and manufacturing capabilities continue to grow – along with their reputation – throughout the 1950's.  By the 1970's, Poulan had created a market for lightweight, consumer-duty saws.  The same quality and durability went into these saws as what was marketed to professional lumberjacks, but they had been downsized and redesigned for mainstream consumers.
It's certainly hard to beat a large, powerful saw when it's being used all day, every day by a professional.  But there are very real, substantial tradeoffs:
Poulan created this niche where saws built for non-professional users were appropriately sized, and didn't require someone to take out a 10 year mortgage in order to afford them.
At the time, that novel idea was considered a "light-duty" saw.  But these days, we've come to recognize them as more medium-duty for the average consumer.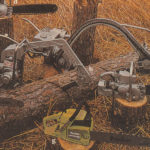 In some cases, Poulan has kept up with the market by adding features to its saws.  But they aren't known for being obnoxious about it.  If a feature makes sense for the sake of safety, or improved productivity, they tend to gravitate towards it.
Recognizing some of the benefits of battery-powered chainsaws (like ease of starting, less maintenance, reduced noise and vibration), Poulan has been fairly active in the last decade or so in this segment of the market.
In the rest of my article, I'll try to touch on some of the best, most popular Poulan chainsaws – both gasoline and battery.
If you are looking for easy to handle, durable, affordable machines, I think you'll find Poulan is one of your best bets.  And based on their overwhelming popularity, it's clear these guys know how to make a chainsaw!
Poulan Pro PR5020AV (967061501)
20″ bar & chain — 50cc, Gas Powered Chain Saw (includes carrying case)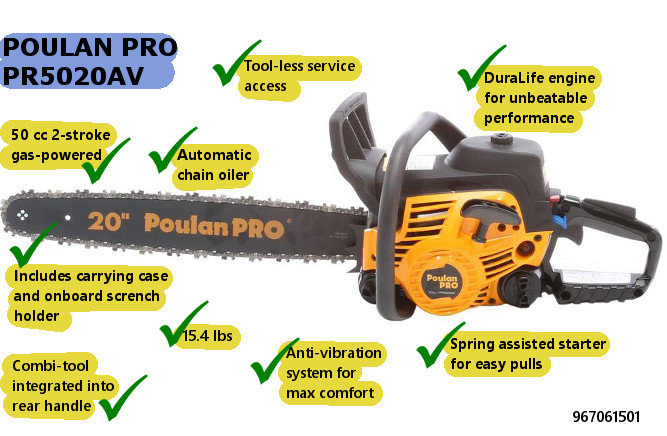 Features:
OxyPower engine technology : Extra power via a powerful engine
70% less emissions and 20% lower fuel consumption
Easy to start pull starting system : Reduces pull force 30%
Combi tool is integrated into the rear handle, it's always there when you need it for maintenance
Purge bulb, which provides the carburetor with fuel
Combined choke and stop control makes it easier to start
Double post chain brake increases safety by right hand activation as well automatically by inertia
Designed for homeowners for general property management and firewood cutting
2-year limited warranty
On board, scrunch holder included
View or download the OWNER'S MANUAL
Overview
Many of you might not realize this, but Poulan Pro and Husqvarna are the same company. Continue reading "Poulan Pro Chainsaw Reviews | 2018 Options"