My neighbor recently bought a Black & Decker LCS1020 chainsaw. I don't know why he didn't just borrow one of my saws, but I digress.
I thought I would take the opportunity to try it out and let you know what I thought.
Specs
This saw has a 10″ bar. It is powered by a 20v lithium ion battery.
The battery is fairly small (as is the rest of the saw) at only 2Ah. The charger is pretty basic, and a little on the slow side. I think they call out an 8 hour charge time, which is kind of crazy. I left it plugged in overnight, but if you're planning to do a lot of cutting, you may need two batteries, or two chargers, or both.
Specs from B&D:
Height: 9.6 IN
Length: 16.4 IN
Weight: 9.3 LB
Width: 8.8 IN
Voltage: 20 V
Watt Hours: 40
Here's the LCS1020 owner's manual/IPL.
Photos
Here are a few photos of what I was working with…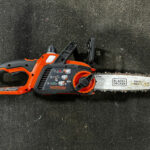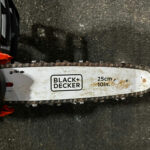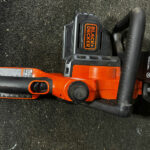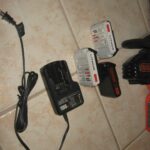 Features
Other than the battery system, charger, and 10″ bar, this saw has
tool-free chain tensioning system
oiling system to keep the bar and chain lubed
egonomic handles well-positioned for power and balance
What I Thought
There are a few things that I like, and some that I don't.
First of all, addressing the elephant in the room, this thing is a small, light-duty saw. Don't buy this if you are wanting to mow down the north forty, or make a career out of logging.
A 10″ bar is really only good for about an 8″ cut. Anything larger than that and you are out of luck.
Also, even if the bar was bigger, you do not have enough power here to attack the big stuff. Not only is the electric motor starting to struggle when you get the bar fully engaged, but the battery exhausts quickly at those higher stress levels.
Having said that, this is a nice and light saw. That means less fatigue in your arms and your back. It's easier to manhandle, and in some cases even extend/reach stuff you wouldn't otherwise try with a larger, heavier saw.
I like that it uses the same 20 volt battery pack as some of the other Black & Decker equipment. If you already have a few pieces of B&D goodies – like their drill, circular saw, blower, hedge trimmer, sander, sawzall, etc. – you can just buy the naked saw and use the battery and charger you already have. That will save a bunch of money.
The saw itself feels reasonably rugged and high quality. If you don't throw it around and bang it up, I think it will endure just fine.
The battery on the other hand is probably a little fragile. It's reasonably well-protected when installed on the saw, but things still happen, and when you have it on the bench charging, or when you're installing it or uninstalling it you'll want to be careful.
As with any electric saw, I like the fact that it's so quiet. You totally eliminate the hassle of mixing fuel, sloshing it all over the place, breathing in the exhaust.
There's zero hassle in starting it. Pull the button and go.
I was polite enough not to ask my neighbor what he paid for it, but I checked online and Amazon is selling them for just under $99 right now. I'll post a link below if you want to check it out.
All in all, this is not my favorite saw, but for the money I think it's a reasonable deal, and I can understand why they are so popular. B&D seems to be selling a lot of these, and I'm not surprised.