I know we all want to think of ourselves as indestructible. I'd sure love to tell you I can sling a 40 lb chainsaw around all day and not be exhausted. But the truth is, I'm getting older. And unless you're a professional arborist you probably don't need the biggest (heaviest) chainsaw out there.
In fact, it's quite frequent that folks come to me asking advice not about the biggest or most powerful chainsaw, but the lightest.
Yes, some of these are women. Single women are homeowners too, and ya'll know that I'm a staunch advocate for everyone that owns a home also owning some kind of chainsaw. But regardless of man vs woman, nobody likes for their back to hurt at night, and it makes sense to get a chainsaw that will get the job done, rather than focusing on one that will impress you neighbors.
In fact… you may not need an actual chainsaw at all. What if I told you that a certain portion of you could get by with a "chainsaw alternative"? No, I'm not talking about a bow saw! I'm looking to decrease the amount of backache you have, decrease the amount of work you have to do, not increase it.
Intrigued? Well, here are some of my recommendations.
Worx WG320 Jawsaw


This is by far my favorite back saving chainsaw device. No, it is not for everyone. If you have giant trees to cut down, this is not what you want to buy. It only cuts stuff up to 4″ in diameter.
There is a ton of stuff that I like here.
Most importantly, given the topic at hand, it only weighs 11 lbs. And it's unique ergonomics make that 11 lbs very easy to manage. The way the Worx guys have basically strapped this chainsaw to a pole make it ideal for cutting branches on the ground without even bending over! It's hard to overstate this, or to explain just how awesome it is. So much of the casual chainsaw user's time is spent bent over sawing up small (less than 4″) branches. You know how that goes, it's a constant battle to keep the chain from dinging the ground and getting dulled immediately. The way this Worx unit works, you just thrust the jaws straight down at the branch and the blade cuts it with no real risk of hitting the ground. Plus, you're just standing straight up rather than bending over. And really the weight of the saw (all 11 lbs of it) is taken up by the jaws resting on the branch below, so it's like a double-whammy of goodness.
This unit uses the same 20V battery that you'll find in a lot of Worx product. You may already have one laying around if you're using a Worx string trimmer. If so, you can save yourself some money since Worx does offer the unit on it's own, without a battery and charger.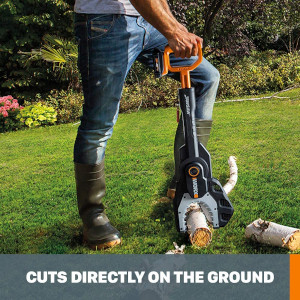 There are plenty of benefits of going battery/electric in this case. You don't have to mess with pre-mixed fuel. You don't have to start and stop the saw as you rearrange the branches and wood to be cut. It's fairly quiet, so you won't drive your neighbors crazy. And it has plenty of torque/power given its size.
This thing has literally thousands of reviews on Amazon, with a rating of I think 4.5 out of 5. So it's not like I'm climbing out on a limb (pun intended) by myself, or promoting something that's not mainstream. This is a great piece of equipment, and as long as you're not expecting to use it like a lumberjack, I'm betting you're going to love it.
You can check the reviews and the latest pricing for the Worx product >> HERE.
Sun Joe 24V-HCS-LTE-P1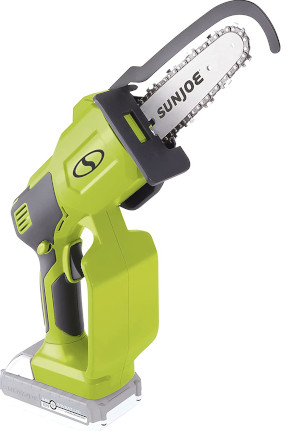 This Sun Joe is not as capable as the Worx, but I'm putting it on the list for two reasons.
First of all, the weight. At 5.3 lbs, you can't have a discussion about lightweight chainsaws without throwing this in the hat. You will not be Paul Bunyan reincarnated when you power this thing on, but you also won't be crying to your chiropractor either!
Second of all, the price. At around $50 including the device, the battery, a charger, and a little bottle of chain oil, you are not going to find a cheaper way to save your back. I mean, I guess you really could run down to the hardware store and buy an old-school wood saw, but good luck with your back flexing that thing.
This is only a 5″ blade, so like the Worx unit it is limited in its capacity. If you find yourself doing a lot of clean-up on the ground with branches no thicker than your forearm, that's where this type of saw will do fine.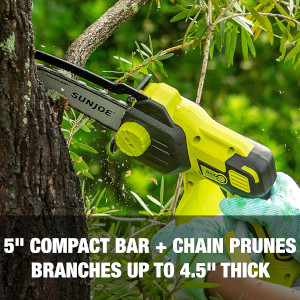 As you can see, this is a different form factor than the Worx. It is handheld as opposed to pole mounted. So you may be bent over more, depending on what you're trying to cut.
This does use the standard Sun Joe 24 volt battery. And like I mentioned before, there are lots of great benefits going electric rather than petrol. This thing is very quiet, and you won't spend your hard earned cash down at the gas station sloshing gasoline and 2-cycle oil into a can.
So that's it, for now. Two recommendations for lightweight alternatives to the big boys I sometimes review. These two won't break your budget, and won't break your back. If you can afford it, I would actually recommend buying something small like one of these in addition to a larger (more traditional chainsaw).
If you want to read over the reviews and see what the latest prices are for the Sun Joe, click HERE.